Apocalypse Now – Final Cut
99 SEK
In stock for immediate delivery
SWEDEN SHIPPING
Shipping Class 1 = 40 SEK
Shipping Class 2 = 60 SEK
Shipping Class 3 = 90 SEK
EUROPE SHIPPING
Shipping Class 1 = 100 SEK (approx 10 EUR)
Shipping Class 2 = 150 SEK (approx 15 EUR)
Shipping Class 3 = 200 SEK (approx 20 EUR)
OUTSIDE EUROPE SHIPPING
Shipping Class 1 = 150 SEK (approx 15 USD)
Shipping Class 2 = 200 SEK (approx 20 USD)
Shipping Class 3 = 300 SEK (approx 30 USD)
NOTE: You can buy as many items you want within the same shipping class.
Read more »
×
Forty years after its original release, audiences will get the chance to experience Apocalypse Now Final Cut, a never-before-seen and newly restored cut of Coppola's spectacular cinematic masterpiece in a way which the director believes "looks better than it has ever looked and sounds better than it has ever sounded".
Restored from the original negative for the first time ever, Apocalypse Now Final Cut is Coppola's most realized version of his multi-awarded classic – a haunting journey into madness that has fascinated generations of movie lovers.
Special features: 
DVD 1: Introduction by Francis Ford Coppola • Trailer for Apocalypse Now: Final cut • Trailer and teaser trailer for the original version
DVD 2: Coppola at the Cannes Film Festival 2001 • Kurtz compound destruction • A conversation with Coppola and Martin Sheen • Fred Roos: casting Apocalypse Now • Trailer for Apocalypse Now: Redux • "Heard any good movies lately?" The sound design of Apocalypse Now • Apocalypse Now, then and now • Monkey sampan "Lost scene" • The color palette of Apocalypse Now • PBR Street gang featurette • The final mix • The music of Apocalypse Now • Ghost helicopter flyover • Apocalypse Now: The birth of 5.1 sound • "A million feet of film": The editing of Apocalypse Now • "The hollow men" • Additional scenes • 1979 theatrical program • Storyboard collection • Poster gallery • Photo archive: Unit photography • Photo archive: Mary Ellen Mark photography • Lobbycards and presskit gallery • The synthesizer soundtrack, article by Bob Moog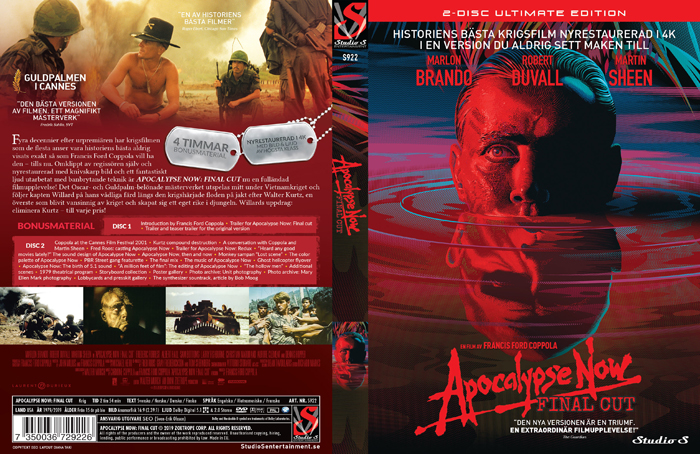 Close